---
The kids did a cute little activity recently that turned out really great. They love doing colorful crafts so I thought it would be great to talk about some great rainbow crafts kids would love today and share the rainbow activity we did at home! These activities inspire fun, creativity, and learning so I hope you enjoy!
I love to find ways for my children to both learn AND have fun. Babies, toddlers, and preschoolers have such an innocent curiosity to learn anything they possibly could, and they really do learn so much from play. Include a wow factor, and the experience is gold.
These are all fairly low prep science activities and simple to complete.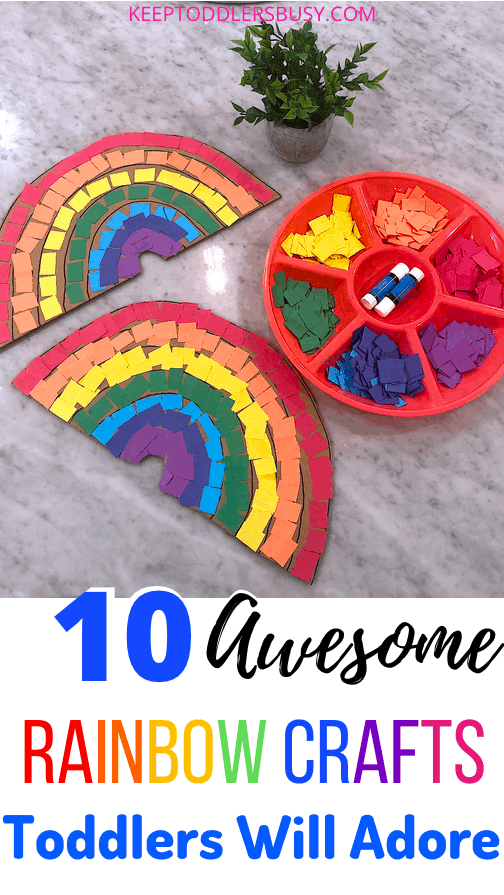 The great thing is that sometimes the simplest things can turn into the absolute best toddler learning activities.
If you love these ideas also be sure to check out my post on 3 ingredient art crafts and dollar tree craft ideas as well! You can never have too many ideas lined up to keep your toddler busy. Also, head on over to Pinterest and follow me for daily update craft ideas!
1. Fine Motor Rainbow Shapes Activity
We did this activity twice and then used the extra squares for other activities!
Everything you need can be found with one trip around the house mostly likely, and shouldn't cost any more than a few dollars if you need to grab some supplies! Here is a list of the items you will need if you don't already have them at home.
Keep Toddlers Busy is a participant in the Amazon Services LLC Associates Program, an affiliate advertising program. As an Amazon Associate, I earn from qualifying purchases. Read more about these links in my disclosure policy.
Here is what you will need:
1.Old cardboard to cut out the rainbow
2. Construction Paper for the squares
3. Markers to draw the rainbow. I love these washable markers!
Quick Instructions
You will start by drawing out the rainbow.
2. Then cut the excess cardboard off with your scissors.
3. Next cut the construction paper into squares. We only needed one sheet for each color and still didn't use it all.
4. The next part of the activity is very simple and fun! Allow the kids to add each piece to the rainbow! They can use glue sticks like mine did, or make it easier and use Elmer's glue.
They can make a traditional rainbow or mix it up a little bit!
Check out the pics below for the how-to and the end result 🙂